White Rapids Adventure Trail
This Adventure Trail is located in the center of the Village of Fredericton Junction
The trail loops the central village, the North Oromocto River, Peterson's Park, Currie House Museum, Art in the Park, Fossil sites, Ancient Trails and Portages and the White Rapids and Rocks.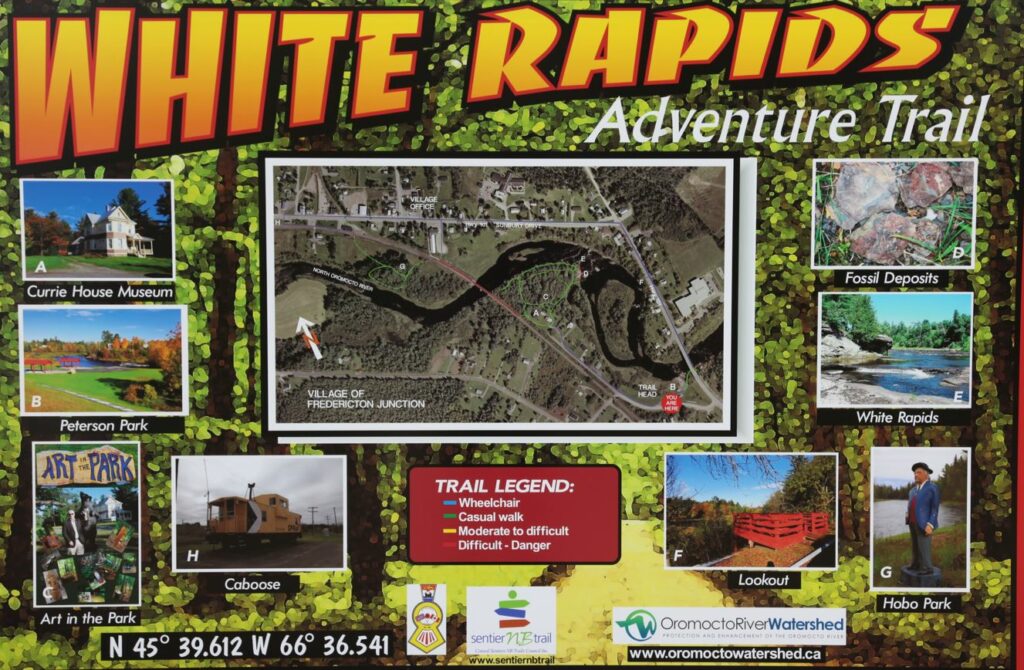 War of 1812 Soldiers at Peterson Park
The Americans had planned to invade Canada via Maine through the well known portage route from St Andrews to Oromocto, then attack the strong hold of Fredericton .The British placed a naval blockade all along the eastern states which the Americans could not challenge successfully. British strength was in its Navy and its ability to mobilize troops to just about anywhere in the world. The British choose to use small gun boats in the vast lower St. John River system.
Large ships had great maneuvering problems in the long winding river systems, currents and winds were not reliable in moving troops inland.17- gun boats were placed on the river system to protect against invasion from the Americans. The boats were usually built of oak frames and clad with lap strake cedar boards. The boats were usually powered by 10 to 12 oarsmen. A coxswain controlled the vessel's direction with rudder or an oar. The vessel had a one pound cannon mounted on the bow which could swivel in any direction. The vessel length varied from 20 to 26 feet generally. The design of these boats is believed to have come from the whaling industry as they were fast light weight and durable. This armada of 17 gun boats served on the river system during the War of 1812, ready to move to action anywhere.
The trade route and the planned invasion route of the Oromocto River system would have seen these vessels constantly plying the waters gathering intelligence and ready to move troops .Gun boats on the St John River system! Who would have ever believed?
GPS Coordinates: N 45° 39′ 36.7″ W 66° 36′ 32.5″